Interview / EPK with Jellymould Jazz on the Wild Flower Sextet album and band:
Click here to order the Wild Flower CD from the Jellymould Jazz website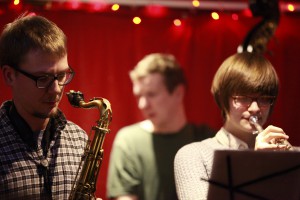 Matt Anderson – Tenor Saxophone
Laura Jurd – Trumpet
Alex Munk – Electric Guitar
Jamil Sheriff – Piano
Sam Vicary – Double-Bass
Sam Gardner – Drums
Wild Flower Sextet is an all-star band led by saxophonist Matt Anderson playing original music inspired by the sound and approach of jazz legend Wayne Shorter, alongside new arrangements of classic and lesser-known Shorter compositions. The band released their debut album this year on the Jellymould Jazz label to widespread critical acclaim and airplay on BBC Radio 3 alongside a nationwide tour, with Selwyn Harris of Jazzwise writing "Their own unique stamp on Shorter's very personal repertoire… of a quality that resonates with its inspirational source… Enjoyably un-pretentious."
Matt Anderson graduated from Leeds College of Music in 2010 with First Class Honours, also receiving the Sam Hood Rosebowl for Outstanding Performance. He has since studied with Iain Ballamy and Stan Sulzmann, and was awarded 'Young Musician of the Year' at the Jazz Yorkshire Awards 2010. He has gone on to work with many of his former tutors, appearing in bands led by Jiannis Pavlidis, Jamil Sheriff, Mark Donlon and Jamie Taylor, as well as featuring on Taylor's latest CD 'Introducing Outside Line'.
The sextet draws on an all-star line-up of UK jazz musicians. Laura Jurd was named Jazz Instrumentalist of the Year at the Parliamentary Jazz Awards 2015 and has recently released her second album, Human Spirit. Guitarist Alex Munk is a recent graduate of the Royal Academy of Music and is currently working with a number of distinguished UK musicians/groups including Stan Sulzmann Big Band, Ivo Neame and Trish Clowes. Pianist Jamil Sheriff is the Jazz Pathway Leader at Leeds College of Music and is well known for his own projects such as his Octet, Big Band and Trio. Finally, drummer Sam Gardner and bassist Sam Vicary have built up a rapport playing together in a variety of settings, from appearing with jazz artists such as Jiannis Pavlidis, Tim Whitehead and Krzysztof Urbanski to performing and recording with ambient hip-hop band Ikestra, and the latter has recently recorded and performed with the Cinematic Orchestra.
Needing no introduction, Wayne Shorter is a legendary figure across the whole spectrum of jazz, from Art Blakey's Jazz Messengers and his own seminal albums on Blue Note Records through the Miles Davis Second Great Quintet and Weather Report to his new Quartet.
Quotes
"Their own unique stamp on Shorter's very personal repertoire… of a quality that resonates with its inspirational source… Enjoyably un-pretentious." *** Selwyn Harris, Jazzwise
"This is sophisticated stuff, with a proper handle on Shorter's post-bop genius… Everyone plays superbly and the whole set is wholly recommended." ***** Mark Gilbert, Jazz Journal
"artfully twisted performance… The idiom was nailed, but this is far more than a tribute band… They may have been mining a rich legacy, but they were in no way slaves to it… Go see them." Mike Collins Blog
"The strength of this album… is that although Shorter may be the inspiration, these musicians… are very much their own people. This is a strong start from six players who sound like they get on very well together." Peter Bacon, The Jazz Breakfast
"The leader's own tenor is commanding both in its resonance and uninhibitedness, rallying his players to a full and fluent sound which exudes real enjoyment… it must take a certain amount of fearlessness to approach the venerable music of Wayne Shorter. Nonetheless, the sextet… feels impressively unrestrained, allowing efflorescent freedom of expression… Wild Flower is as fresh and imaginative as they come – this sextet deserves to flourish." Adrian Pallant
"The band's interpretations are cool and assured… Wildflower is an accessible and richly melodic album of great warmth and sophistication." Peter Jones, London Jazz News
"the group's performance incorporated all the classic Blue Note virtues; an engaging hook, swinging rhythms, some excellent horn interplay, and absorbing solos by Anderson on tenor and Leak on piano… proof if any were needed that jazz is very much a living music. Anybody who sees the sextet on this tour is sure to want to hear the album which features some excellent playing." Ian Mann, The Jazz Mann
"Heritage repertory "golden age" acoustic jazz made with a great deal of respect and love by these talented musicians all beginning to make a name for themselves, Anderson's tunes blending well with the classic material…" Stephen Graham, Marlbank
"I was knocked out… Anderson doesn't attempt to emulate Shorter but blows his own thing in a manner that I'm sure Shorter would approve of." Lance Liddle, Bebop Spoken Here
"A promising kick-off gig for the band's debut album tour and a stylish, mouth-watering opener… assured, escapist improvisations and musical breakdowns." Sue Watkins, Shrewsbury Chronicle